With what seems to be one of the biggest changes to search engine ranking since Panda and Penguin, Google will begin rewarding mobile-friendly sites in SERPs (Search Engine Results Pages) on April 21st.
Having a site that is mobile friendly has already been a strongly recommended best practice for the past few years – gaining importance as  we move to doing more with our smartphones and tablets then ever before globally.
Now Google wants to make it mandatory if you want to rank when a potential customer is looking for your products or services on a mobile device. If you are confident your site is already mobile friendly you needn't worry.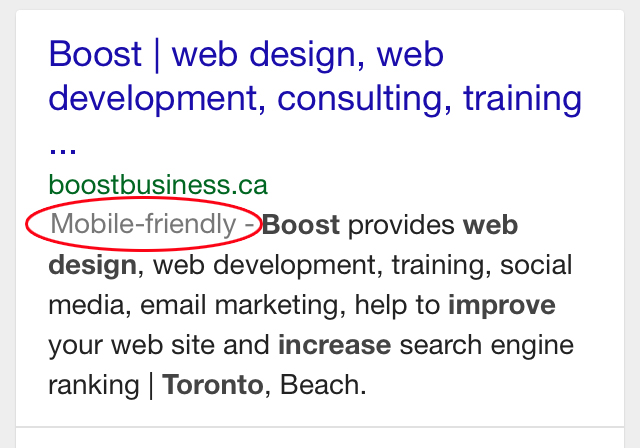 If you are not certain whether you need to make any improvements to your online business hub (AKA your website)? There are two quick ways to check. You can quickly check to see if Google already considers you site mobile friendly by looking yourself up in Mobile search if the description for your site(under the title and link) begins with "mobile friendly" you are good to go.
You may also go to the Google Mobile-Friendly Test enter your URL and see if Google thinks your site is "awesome".
There are almost 200 signals that are used to determined your mobile friendliness. The quote from Google to position this new update is; "Starting April 21, 2015, we will be expanding our use of mobile-friendliness as a ranking signal. This change will affect mobile searches in all languages worldwide and will have a significant impact in our search results.""…users will find it easier to get relevant, high quality search results that are optimized for their devices."
Want more information on getting mobile friendly? Check the Mobile Sites section in Google Webmaster tools.
Or contact us if you would like someone to help you clearly understand your options and adapt your website to be mobile friendly.