Not having enough time is the #1 objection I hear from most Small Business clients when encouraging them to begin blogging and to also consider amplifying that value with Social Media. Quite simply, writing a Blog is still one of the best ways to feed search engines with their favourite food; consistent, fresh, searchable, relevant content, and to establish expertise in your niche. Social media is the also the best way to amplify it, to reach more potential leads with it and to drive that traffic to your site.
Even for clients who acknowledge the value of blogging and the added value of amplifying the content of their posts to gain exposure and drive traffic to their site through social media, the most common objection to actually beginning that valuable blog is a concern they will not have time to consistently post and add true value.
Curated Content To The Rescue!
Keep It Simple and Systematic
Begin by harvesting ideas, most Small business owners and solo-preneurs already have more content than they know what to do with. Every question answered for a client, every topic of a presentation done in the past every client project example are potential blog posts.
Plan ahead by creating an editorial calendar for your next five or six posts at least. Harvest ideas and links as they come to mind or into your peripheral vision. Then when you need to get a post out and do not have time to craft an award winning article, pepper your own content with Curated Content – links to the relevant content of another respected experts in your field or a related field.
Here are some great (curated) posts to give you some ideas and tips around curating your blog content to Keep It Super Simple
And all I did was set free some trapped content.
by Charlie Gilkey – Productive Flourishing
Curated Content Examples to Make Business Blogging Easier – Linda Dessau – Content Mastery Guide
Why GOOD content curation is a three-way win for you on social media by Suzan St. Maur – How to Write Better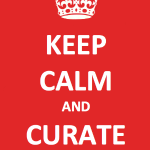 3 Essential Content Curation Best Practices to BOOST Content Marketing Performance Lee Oden – Top Rank Blog
Here are a few more practical tips from Linda Dessau to keep you at it even when not curating:
Daily Business Blogging Habits to Improve Productivity

5 Traffic Strategies That Build Your Curation Audience by Brian Clark – Copy Blogger