If You Build it, Will They Come? 
They will come if you are very clear about who "they" are, if you are armed with a little competitive knowledge and determined to be persistent with simple, authentic, care and feeding; adding content to your website consistently and amplifying it regularly through social media.
The idea of building 'nice site' and having your audience just show up is simply unrealistic. I have seen it time and time again.
Too many smart people invest in half of the right things for a web presence believing that is enough, a secure solid foundation, branding, professional copywriting, a killer headshot, a great looking, well thought out and SEO optimized site completely in their control. These are all awesome and important elements but too many stop there. That is only half the story… 
Marketing IS simple but most small businesses are not doing what they need to do and not growing their business as much as they could because they stopped there. It is not a new story – it is marketing mix.  You CAN steadily build a relevant audience and your business. It takes simplicity, consistency and authenticity. 
"Think of it as building the foundation for massively scalable word-of-mouth."
~ kissmetrics

Another common misperception is that social media alone is enough. You do not have control over Facebook or Instagram the way you do over your own site. Social media is the amplifier to build awareness, relationships, engage and drive traffic back to your site.  Another road block for Small Business owners and solo-preneurs is the belief that social media takes hours every day or that you need to be an imaging expert to participate properle.  If you're smart and strategic about it and use some efficiency tools like Hootsuite and Canva, by smartly investing time in growing your social media presence, you WILL steadily build your business.
There is so much to say – at least a dozen other blog posts will roll from the topics I am only touching on here. Taking action and consistency is the missing piece for so many small business owners. There is much foundation here to build out my own editorial calendar for future postings. Much of the magic is in the action to get busy writing ahead while inspired to write rather than falling into the trap of leaving until 'must' write discourages or prevents action.
The "Magic" Keys to Success
The big green button to a successful web presence? If you find one, be wary. If the kind of services that promise they'll "get you on page 1 of google tomorrow" sound to good to be true – they are. They may  succeed for today but their quick win black hat practices very often have you penalized or removed from search results  tomorrow or the next month.
The
REAL

Keys to Success
FOUNDATION:
Get clarity around who your ideal customers are and who your competitors are (they are not always who you think they are). Understand what sets you apart – what makes what you offer different from their offerings, their approach. What problem do you solve for your best customers? What are their hopes, frustrations and fears? Do you know what keeps them up at night? (hint: start writing a list, even ask some of your best customers and you have a starter editorial calendar of the next 5-10 blog posts you will be inspired to write.) 
Begin with a securely built, editable, Website with SEO (Search Engine Optimization) which you control from the domain and hosting to the ability to edit content and add images and beyond. Your little property of internet Real Estate that you completely own and control.
Another common misconception in current marketing is that SEO is somehow not as important as the content marketing. The two actually work in tandem and SEO should not be ignored in favour of content marketing. In fact should be used together to get the most out of that content. Optimizing your site with effective titles, meta descriptions, alt tags, optimized copy, URLs, etc. is still a very solid investment in supporting your growth.
REGULAR CARE AND FEEDING; 
Consistently add useful relevant content to your website (blogsite) online business hub. Follow no one else's idea of frequency, just decide how often you know you will be able to keep up contributions with consistency and stick with it. Your contributions do not need to be literary award winners. Keep it simple by curating content  from other sources for example.   I see too many people fail because they put to much pressure on themselves over wha and how to post. Keep it helpful, simple and relevant.  Remember your mission is to show your personality and your expertise.  Those for whom you are a good fit will be engaged and that is who you want anyway. Don't be something you are not to earn customers.
"Strive for continuous improvement, not perfection." Kim Collins
AMPLIFICATION:
Enhance your reach and SEO 'juice' with social media. Social proof like reviews, engagement, shares and endorsements are valuable to drive traffic to that website hub. By consistently and efficiently investing time in using social media to amplify that content and curating other relevant content in your niche you will  grow your social media presence, build relationships and loyalty and drive valuable traffic back to your hub. Take time to feel completely comfortable in one platform before you move to the next It is not a race.
STAYING TOP OF MIND:
People who are willing sign up at events, referrals, and those you do not even know who find your site and are interested in your content enough to give you their contact information – these are all warm leads 100X more valuable to you than "likes" or follows.
With as many of those site visitors and that audience as you can with email marketing. They are your warm leads when you are ready to promote your services, a workshop, new product, book whatever you are focused on.
An opportunity most often left untapped. Again the most common mantra is "it takes too much time".  The value of building a contact list and staying top of mind with your audience of warm leads and loyal customers – not just likes or fans, these are people who are genuinely interested in what you offer –  is earning the right to communicate directly to them when you have a workshop, special promotion, awesome case study, new book, app, product, service, etc. to tell them about.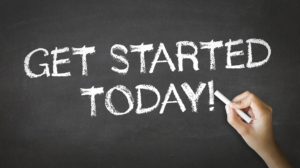 Proverb:  " The best time to plant a tree was 20 years ago, the second best time is now."
Chris Brogan: "Marketing is simple but not easy, It is simple, but you're not doing it, and you're not successful because you're not."
It is a long game. Building trust with consistency and authenticity is a key for small businesses.

Blogging and social media are the best way to tell your story, make connections with your potential customers and build your brand. People prefer to buy from people they feel they know. Be that person.
If you've ever wanted to start blogging or using social media, but were overwhelmed – or if you've found yourself confused or disillusioned by social media please reach out, I can help you take full ownership of your site or social media, build confidence,  make it manageable and maybe even fun!